HI runs more than 400 projects in some 60 countries. This calls for a range of technical, methodological and managerial skills. We recruit staff with varied and complementary profiles for HI's network, which is composed of the HI Federation and eight national associations.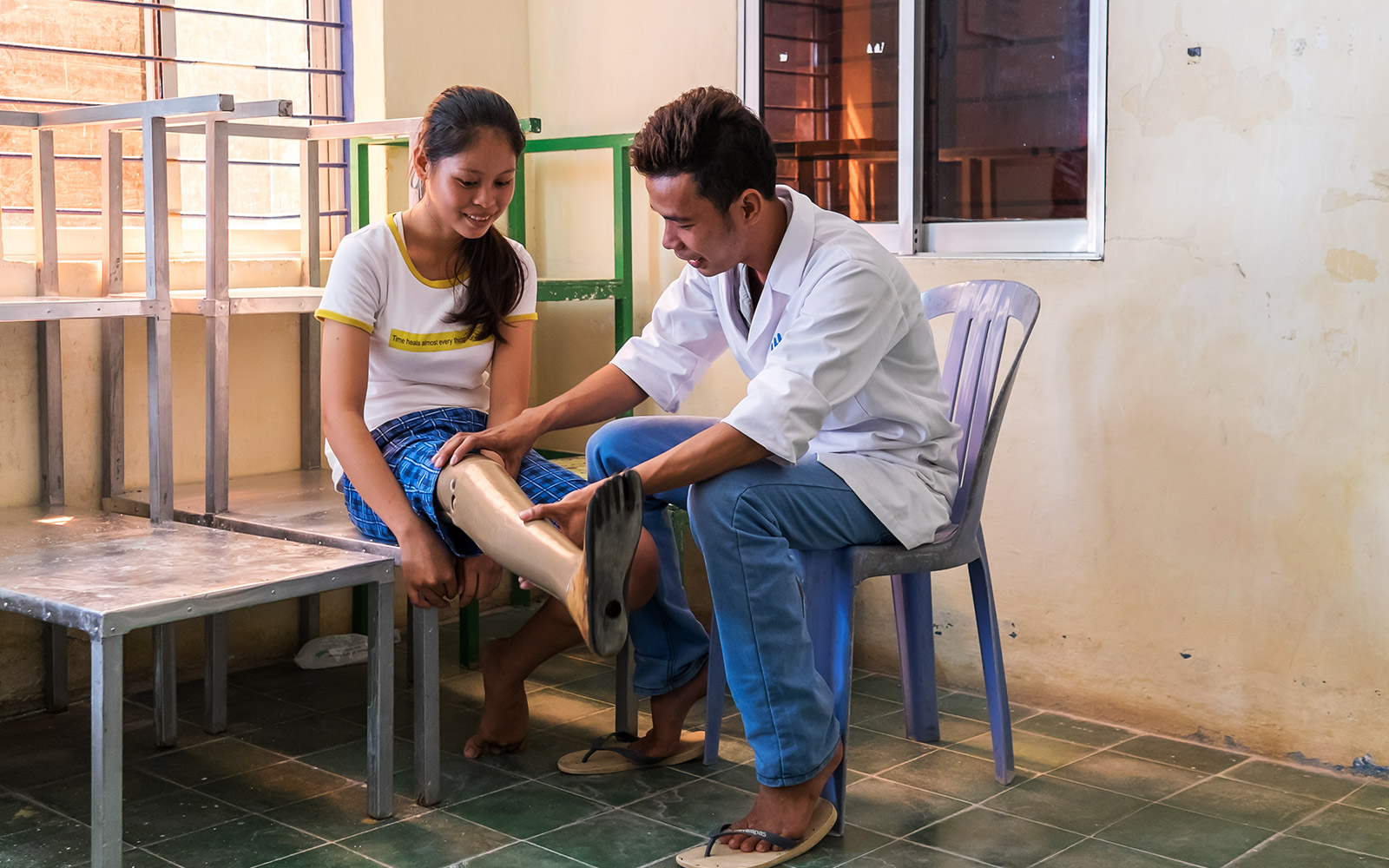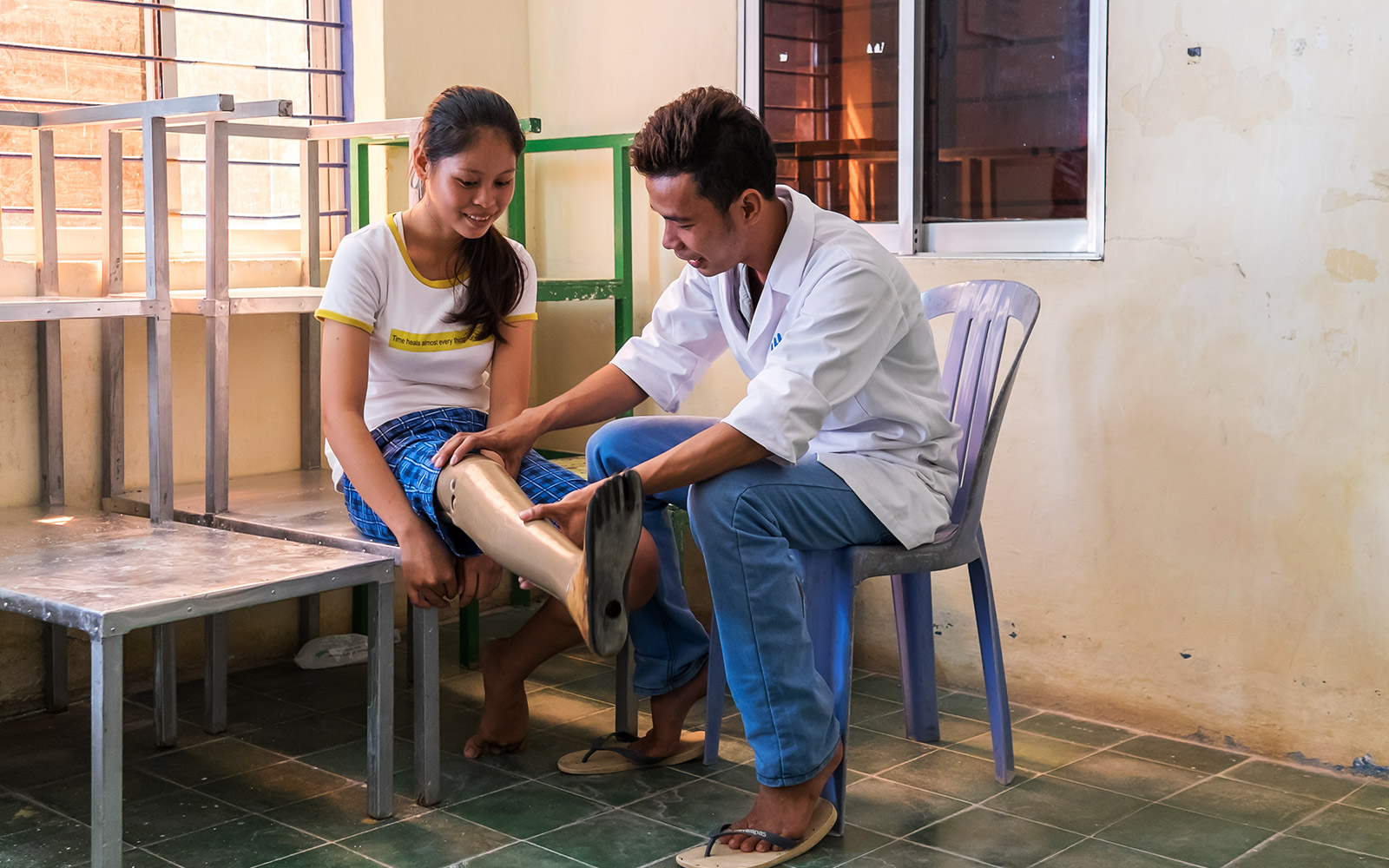 Our values
The decision to work in humanitarian assistance is a meaningful one. At HI, the values we hold are focused on our beneficiaries and shared by all those who have chosen to join us. They are the backbone of our mission and motivate us all to become ambassadors for HI in our day-to-day work.
Working at HI means comprehending and embodying these values that make up our DNA.
Respecting our team members regardless of their origins, personal circumstances and position in the hierarchy to ensure healthy working relationships and constructive discussions.
We seek a working environment that encourages feedback between colleagues, to managers and to the team, as feedback is seen as a lever for progressing and developing.
Demonstrating courage and innovation in our humanitarian responses in order to implement effective projects and foster group dynamics.
We believe that working as a team to meet the objectives of our projects ensures we are tangibly involved in every stage of the process and can measure the full impact of our actions.
Fighting ceaselessly against exclusion and promoting diversity in the workplace.
We ensure that our recruitment process and our teams reflect one of HI's fundamental values: each member of staff is key to the success of our projects and difference is recognised as an essential ingredient in collective performance.
Embodying HI's mandate and values and complying with HI's code of conduct in our daily work.
We are accountable to our beneficiaries and to the donors and funding bodies that finance our projects. Because it is vital to prevent anything from hindering the successful implementation of these projects, we have developed policies governing project monitoring and evaluation, the prevention of fraud and corruption, and the safeguarding of beneficiaries. #donoharm
We also ensure an environment that is conducive to individual well-being with the help of a code of conduct followed by all our employees, partners and consultants
72 HEURES
notre temps de réponse
opérationnelle
Operating more than 400 projects in sixty countries requires technical, methodological and managerial skills. we recruit staff members with varied, complementary profiles for the HI network composed of the Federation and our national associations.
A management culture in phase with our values
As our managers play an essential role in our organisation, we help them develop their skills and practices.
They are all offered a purpose-built training pathway and given individual support (coaching, mentoring, etc.) and collective guidance (co-development, team building, etc.) throughout their career.
Teams & diversity
More than 4,500 people, including 3,500 national field staff and 300 international staff, work for HI in a wide range of contexts.
We run projects in South America, Africa and Asia. Our eight National Associations are based in the US, Canada, UK, Luxembourg, Belgium, Switzerland, Germany and France.
We are striving for a more inclusive world and believe that diversity is an asset for our organisation. We are committed to ensuring that differences are not an obstacle to working for HI and that all our employees are sensitive to inclusive employment issues.
International staff
Our international staff are recruited by our headquarters in Lyon. Their role is to provide technical and methodological expertise on our field programmes and help build the capacities of our national teams. Their employment contracts take into account the inherent mobility requirements.
We provide our international staff with an employment package that can be adapted to all types of field mission. Our top priority is the health and security of our employees.
Components of this package include:
A salary based on the responsibilities of the position and the candidate's skills and professional experience.
A cost-of-living allowance
A cost-of-living allowance or "per diem" that offsets any differences in the cost of living between our different countries of intervention. The indexes on which we base our calculation of this allowance are purchased externally and are regularly updated and shared.
A hardship allowance that offsets context-related differences in living conditions. The amount of the allowance depends on security levels, access to services, leisure activities, and potential social isolation. The maximum amount payable is €500.
A child allowance of €100 paid for two or more dependent children.
A contribution towards school registration fees
A contribution towards school registration fees for children over 3 years of age.
Because we require our international staff to be mobile, we take care of their accommodation requirements. The type of accommodation provided depends on the length of the mission, security conditions and family circumstances.
We also cover the costs of transport, visas and freight (personal effects).
Because the health and well-being of our staff is our main concern, our international staff are entitled to:
In addition to the mandatory five weeks of annual leave, our international staff are also entitled to Rest & Recuperation days to recharge their batteries and spend some time away from their mission site.
Our sites are categorised based on living and working conditions as standard, difficult or very difficult. The frequency of R&R depends on the site's category.
An Insurance and Provident Fund package
Health insurance and complementary health coverage for all our staff and their family members;

Repatriation insurance for all our staff and their family members;

Psychological support for everyone and a reinforced service for high-risk contexts;

Unemployment insurance (EU nationals only);

Pension coverage tailored to staff members' situations.
If the context allows and depending on the duration of the mission, international staff joining HI may be accompanied by their partner and/or family.
Arrangements adapted to the security context are made to help them maintain a good work-life balance. In some cases, families may be accommodated in a neighbouring country.
Work environment
Health and well-being at work
Whether at headquarters or in the field, all our employees benefit from psychological support and stress management training.
Our managers create the conditions for everyone to find fulfilment at work, and tools are available for teams to regularly assess their well-being and workload.
Feedback, social barometer exercises or broader surveys are carried out regularly.
Caring for our staff
HI works in situations of conflict, epidemics and natural disasters. In these contexts, we attach the highest importance to safeguarding the security and physical and mental health of our employees.
As an employer that cares about the well-being of its employees, both at our headquarters and on our field programmes, we pay particular attention to their health. Our centre of expertise in physical and mental health based at our headquarters in Lyon has put in place all the necessary frameworks and policies to ensure that everyone receives the support they need according to the risks and location of their mission. Staff joining HI are offered an adapted health pathway and access to online training modules throughout their mission, with a particular emphasis on stress management, incident management and burnout prevention.
They may also be offered an interview with a psychologist before leaving for the field to help them avoid certain risks.
Personalised career management… taking action and bearing witness
HI's teams work in humanitarian emergencies, chronic crises and situations of extreme poverty helping people to regain their place in the community. Our employees therefore have the opportunity to exercise their profession in very different contexts and in accordance with their personal circumstances. We respect the principles of inclusion and accessibility both in the way we recruit people and in the way we implement our missions.
Internal mobility
Joining HI means becoming part of a federal network with headquarters in Lyon and Brussels, an office in Paris, 8 National Associations and field programmes in about 50 countries.
Because of our wide-ranging professional requirements and the broad geographical coverage of our projects, there are opportunities for both horizontal and vertical mobility throughout the organisation.
When internal mobility involves geographical mobility, the necessary provisions are made in the employment contract.
There are many opportunities for becoming part of our teams!
Because our human resources are the key to our success, we encourage people to develop to their skills and make a career with our organisation. HI's employees can therefore apply for other positions within the organisation in different areas of activity.
Because we want everyone to achieve his or her full potential at HI, we offer:
An effective and accessible induction pathway;

Managers and a HR team ready to listen to people's career development aspirations;

The construction of a career path adapted to their skills, both those already acquired and those to be developed, and to the needs of the organisation

Career development monitoring

Access to our HI Learn&Go e-learning platform offering training modules in a variety of skill areas.
Photos : © L. Veuve / HI - © W. Huyghe / HI