Our latest advocacy publications
Humanity & Inclusion – Handicap International presses for crucial policy changes in policy areas relevant to its specific expertise. You can find more information on the page "Fighting for global policy change". On this page below, you will find information on our latest evidence-based publications.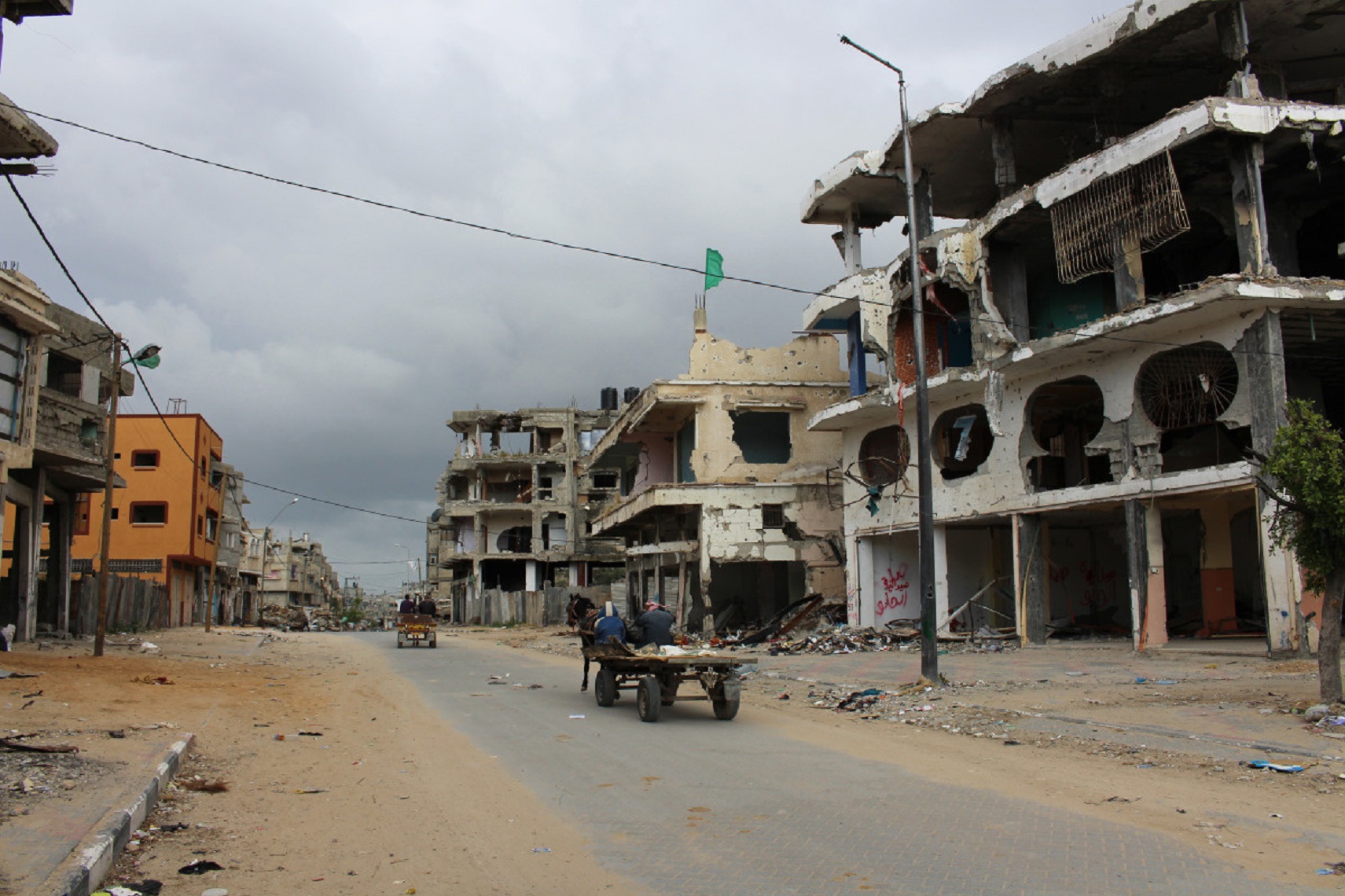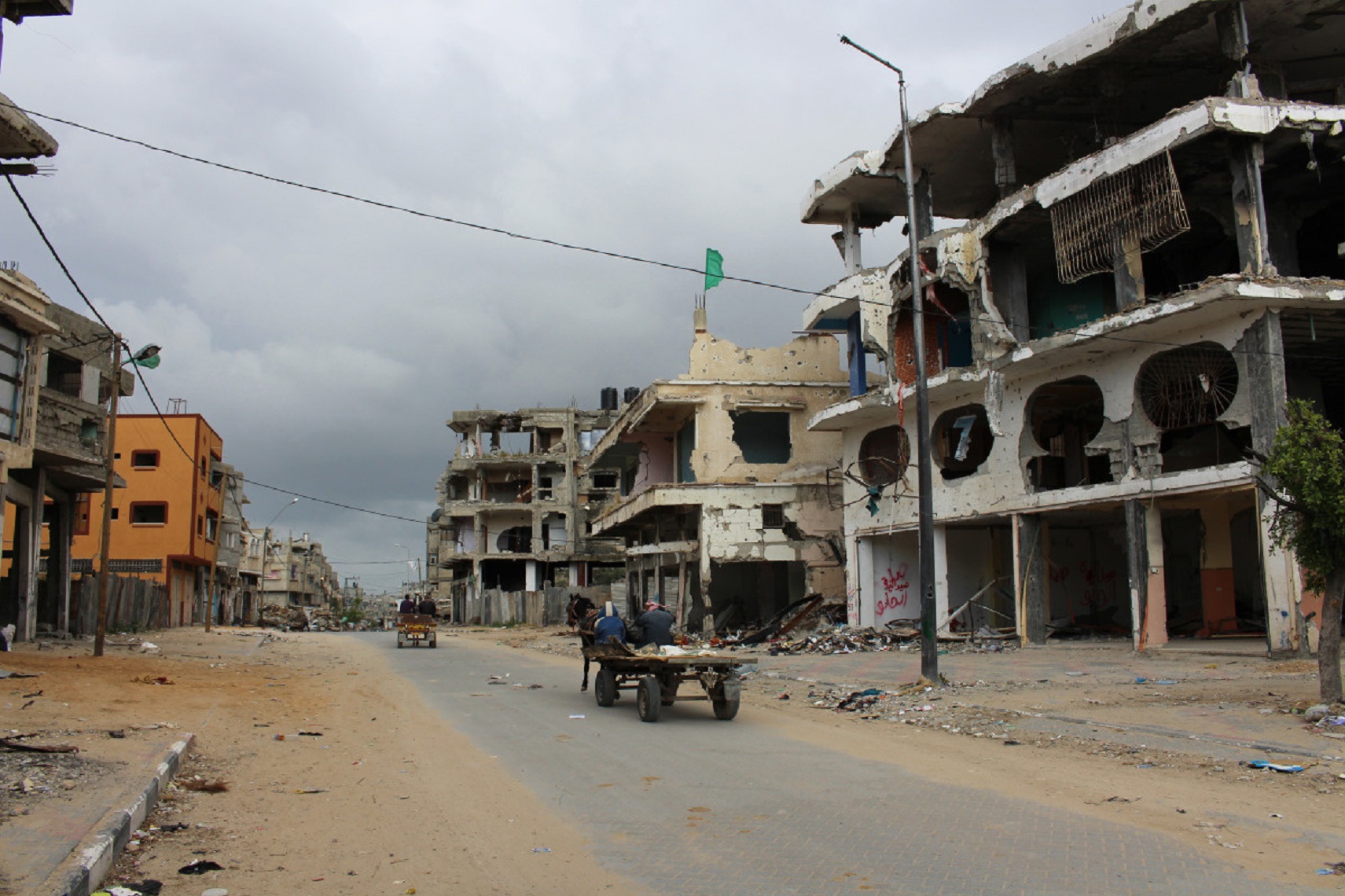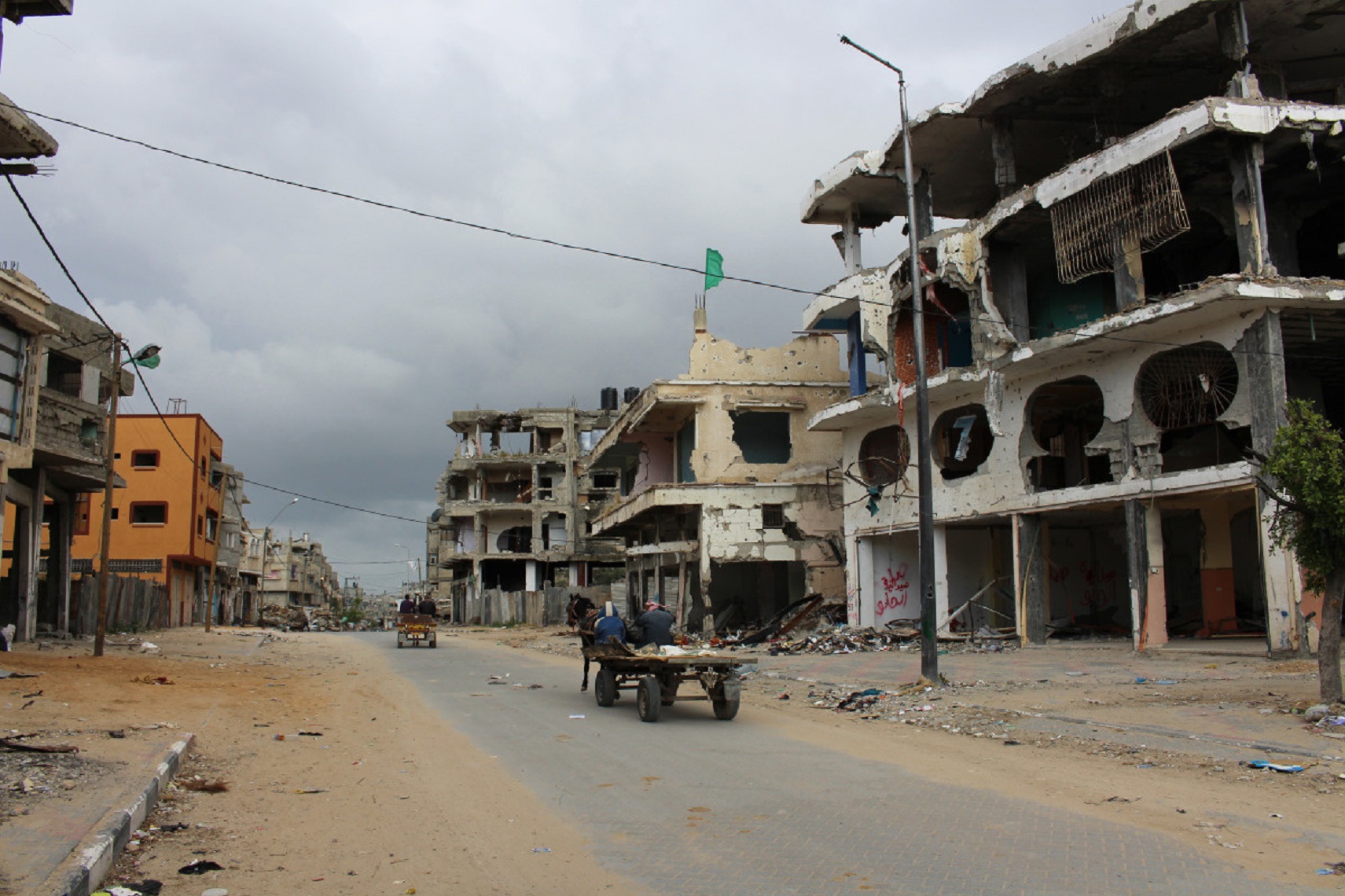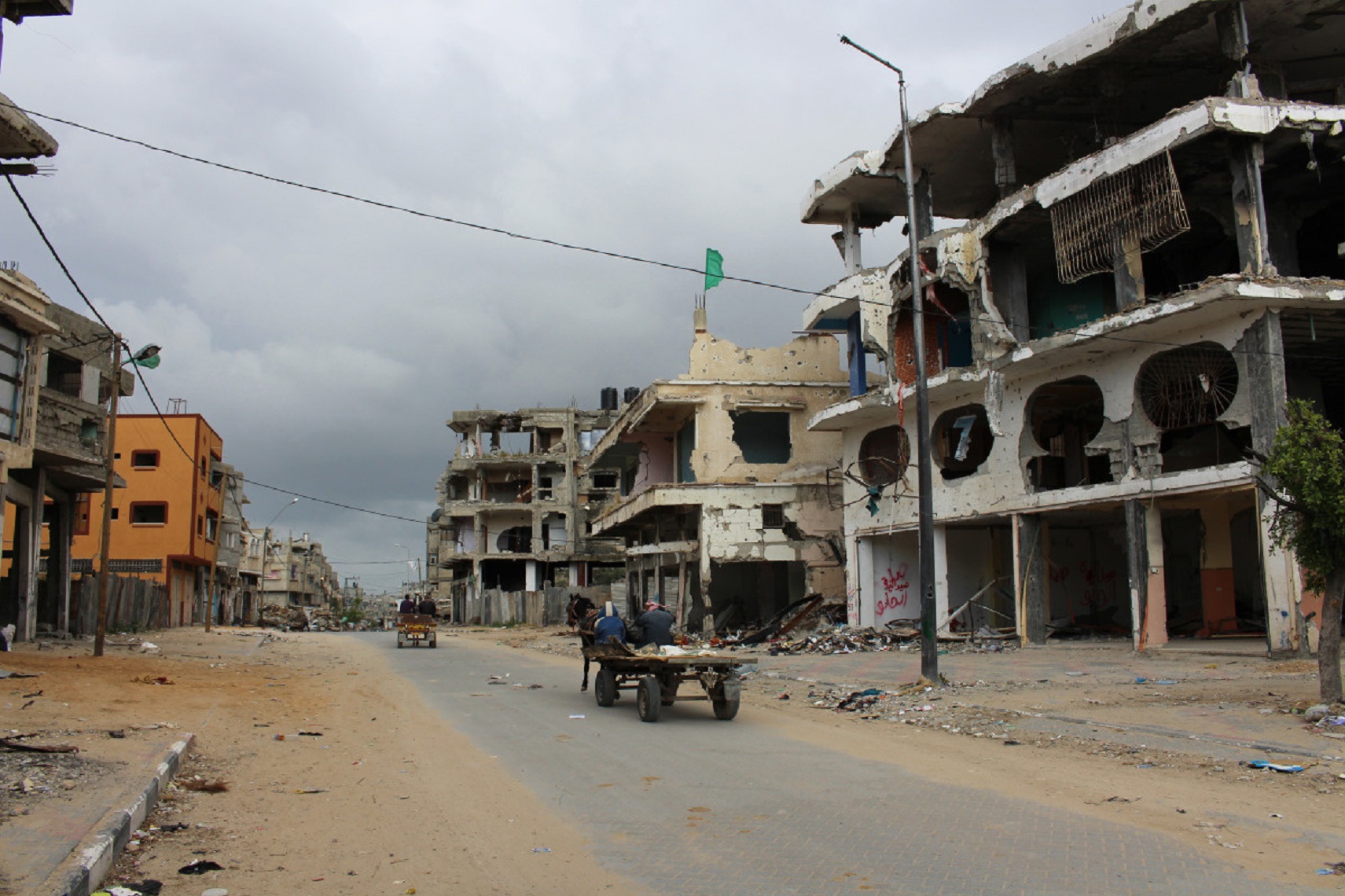 Buildings in Shejaiya, Gaza, an area largely destroyed during Operation Protective Edge in Summer 2014. © Tom Shelton / HI
The people behind the numbers
Humanity & Inclusion – Handicap International has been monitoring the impacts of explosive weapons in populated areas for several years, to raise awareness on the urbanization of conflicts and the humanitarian consequences resulting from the use of these weapons. After three-year diplomatic process, in November 2022, a political declaration to better protect civilians against the use of explosive weapons in populated areas (EWIPA) has been endorsed by 83 States.
In February 2023, HI releases a factsheet "The impact of explosive weapons in Gaza. The people behind the numbers" highlighting the unmet needs of men, women and children affected by explosive weapons and introducing survivors who are sharing their unique life experiences, which gives meaning to data and purpose to actions.
The complexity of injuries caused by Explosive Weapons in Populated Areas
In Gaza, between 2014 and 2021, HI and its partners provided a range of services to people with blast injuries. The explosion itself, or in some cases fragments and shrapnel from the explosion, caused broken bones and flesh wounds, which frequently required surgical amputation. Injured persons also suffered from traumatic brain and spinal injuries caused by collision, as well as traumatic amputations. Some patients presented with a combination of all these injuries, and many of them showed signs of severe psychological trauma.
In towns, cities, and other areas populated by civilians, explosive weapons damage or destroy vital civilian infrastructure, such as hospitals and other health facilities, reducing access to emergency medical care for the person injured and for the conflict-affected population more broadly.
Palestinian civilians killed by explosive weapons between 7th July 2014 and 31st December 2021 [i]
72 HEURES
notre temps de réponse
opérationnelle
Palestinian civilians injured by explosive weapons between 7th July 2014 and 31st December 2021 [ii]
explosive remnants of war (ERW) have been removed and destroyed under the supervision of the United Nations Mine Action Service (UNMAS) since 2014 [iii]
stories of survival in the new publication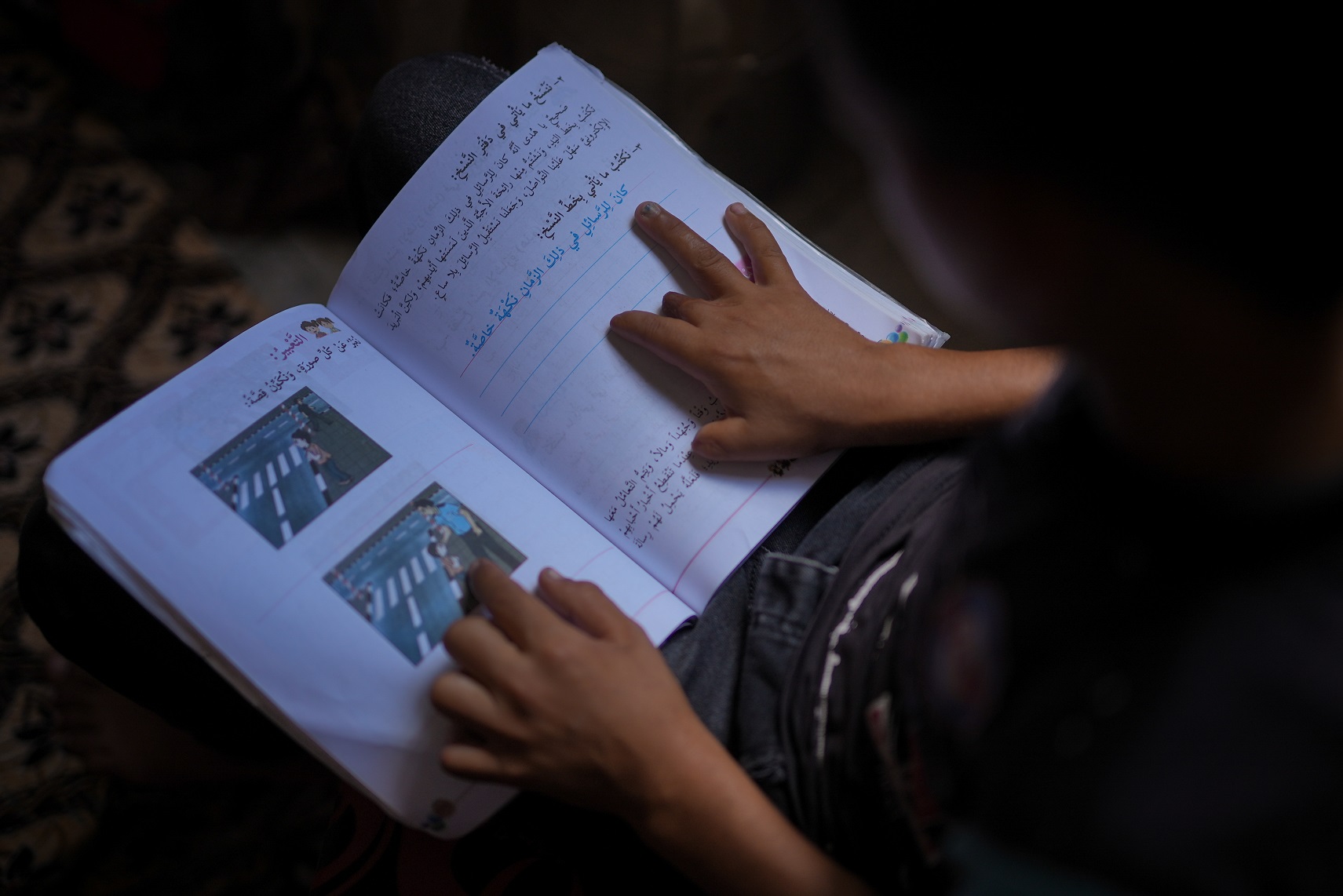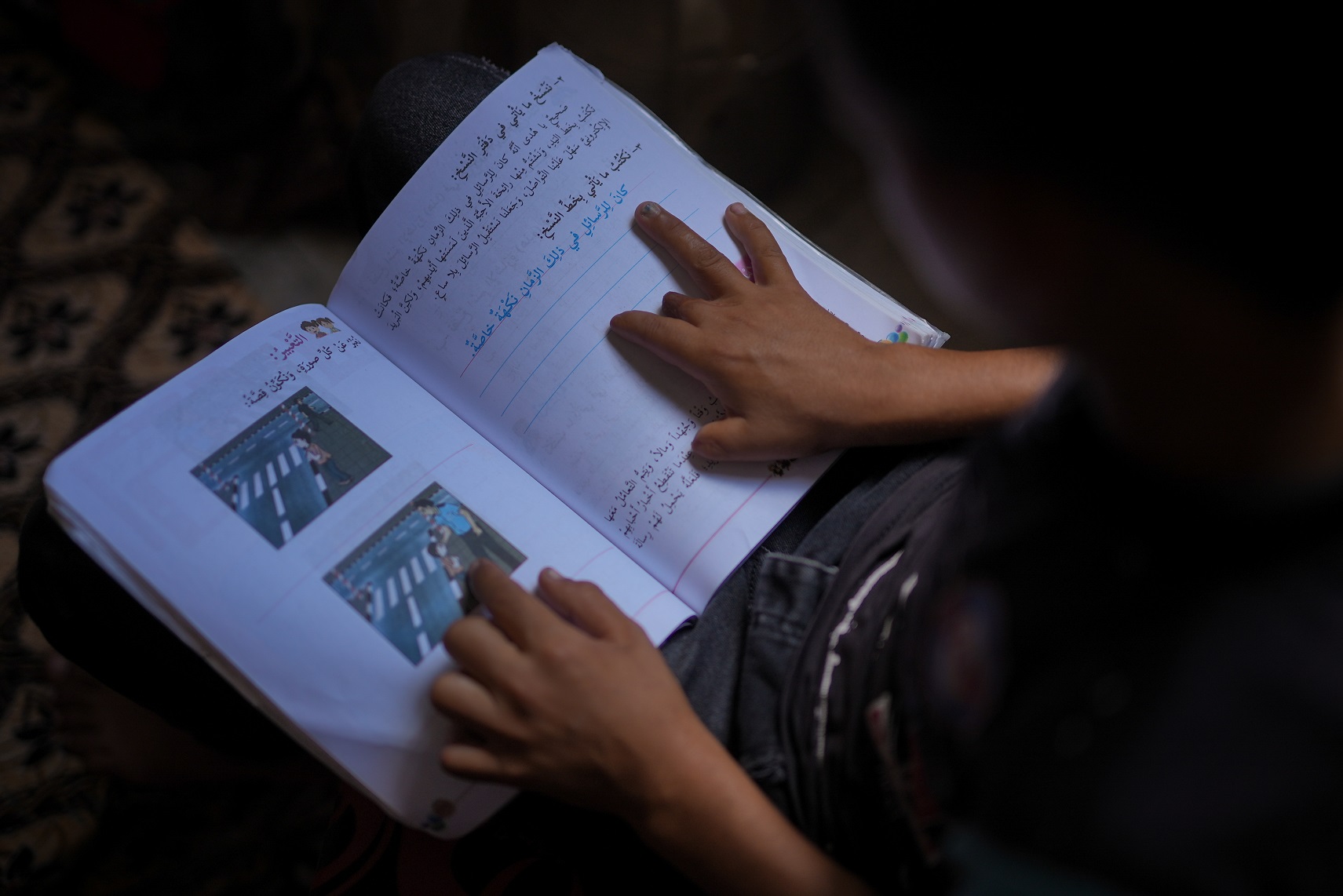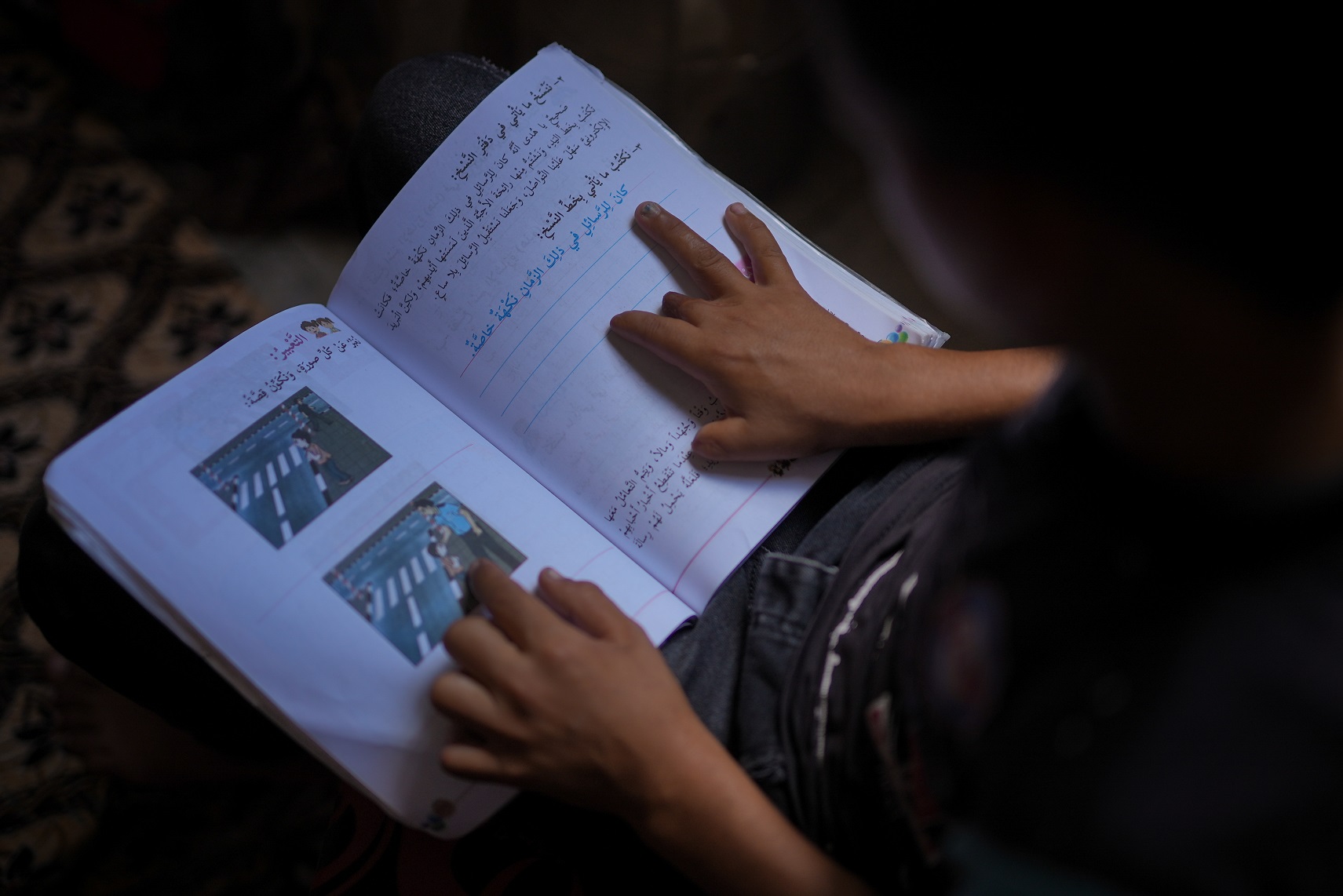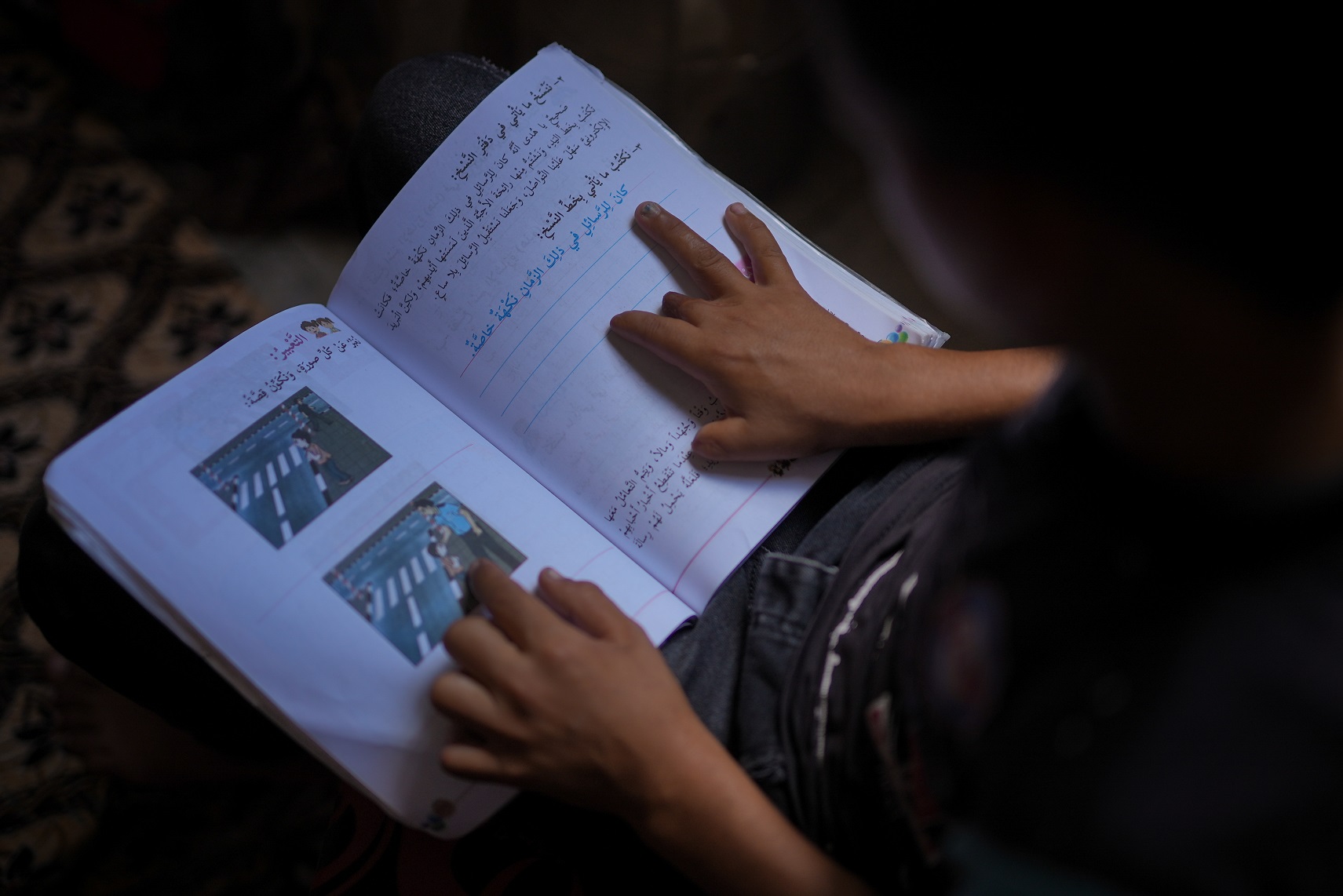 Lima, Palestine Avenir for Childhood Foundation (PACF) Social Worker, Gaza
"I have observed that there are two types of people with injuries. The first group encompasses those who receive care and support from their family members and from their friends. These people are strong and confident. The second group includes those who are neglected, abused, and unable to reach services.
They are excluded. One of these people, a child, sustained a long-term impairment due to their injury, leading to disability. The family concealed the child because of their disability. We supported the family and now the child is enrolled in a school."
Picture: Yousef is a 14-year-old boy. When he was 10 years' old, he was injured in an explosive ordnance incident. You can read his full story in the factsheet. © HI
Short-, mid-, and long-term needs of survivors: the unmet pyramid of Victim Assistance
Victim Assistance aims to save the lives of people injured by explosive ordnance (EO) and to address the diverse needs of survivors, the family members of people injured and killed, and EO-affected communities, as well as to facilitate the enjoyment of their rights. It entails the adequate provision of disability-, age-, and gender-sensitive services, including emergency and ongoing medical care, rehabilitation, psychological and psychosocial support, and socio-economic inclusion. ​​Victim Assistance should be implemented in compliance with the Convention on the Rights of Persons with Disabilities.
In Gaza, 15 years of blockade, several escalations in violence, poor institutional capacities and intra-political conflicts, lack of data on the number and situations of persons with injuries and disabilities, and the absence of information on available services have all hindered the adequate provision of Victim Assistance to the point where it has become practically non-existent.
Fatima, Yousef, Osama, and Layla [i] shared with us four different stories of survival. Along with their families, they struggle every day to overcome the challenges they face, in order to fulfil their hopes and plans for the future, while rebuilding their lives.
You can read their stories in the document.
Action is needed at multiple levels to prevent the use of explosive weapons in populated areas and the suffering it brings about, and to support people injured, survivors, and their families in their daily lives.
All parties to the conflict should
Comply with International Humanitarian Law (IHL) and the UN General Assembly resolution on "Basic principles for the protection of civilian populations in armed conflicts", adopted on 9th December 1970, (A/RES/2675) and subsequent declarations.

Avoid the use of explosive weapons with wide area effects in populated areas, in the spirit of the widely adopted 'Political Declaration on Strengthening the Protection of Civilians from the Humanitarian Consequences arising from the use of Explosive Weapons in Populated Areas', which includes also firm commitments on Victim Assistance and humanitarian access.
The internatonal community should
Commit funding to significantly scale up humanitarian mine action activities, including all pillars of Victim Assistance, and reconstruction of vital civilian infrastructure to ensure service delivery.

Advocate for easing restrictions and administrative procedures on all items linked to emergency and recovery medical pathways.

Collect data on casualties and the needs of survivors and other persons with disabilities while conducting other humanitarian mine action operations.
[i] [ii] Data and statistics according to the UN Office for the Coordination of Humanitarian Affairs (OCHA)'s dashboard. [iii] Data from UNMAS. [iv] Names have been changed to protect the people mentioned in the testimonies.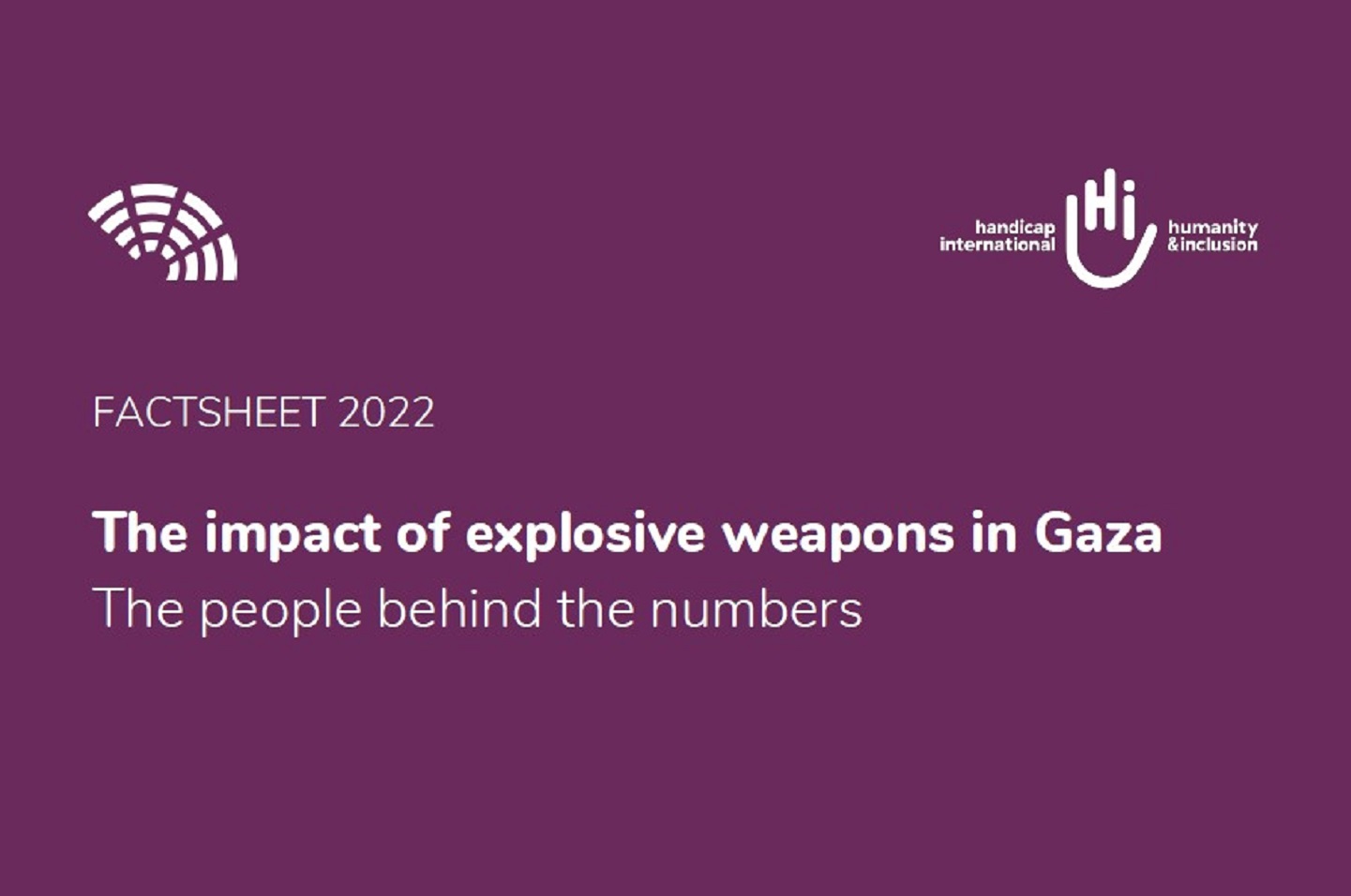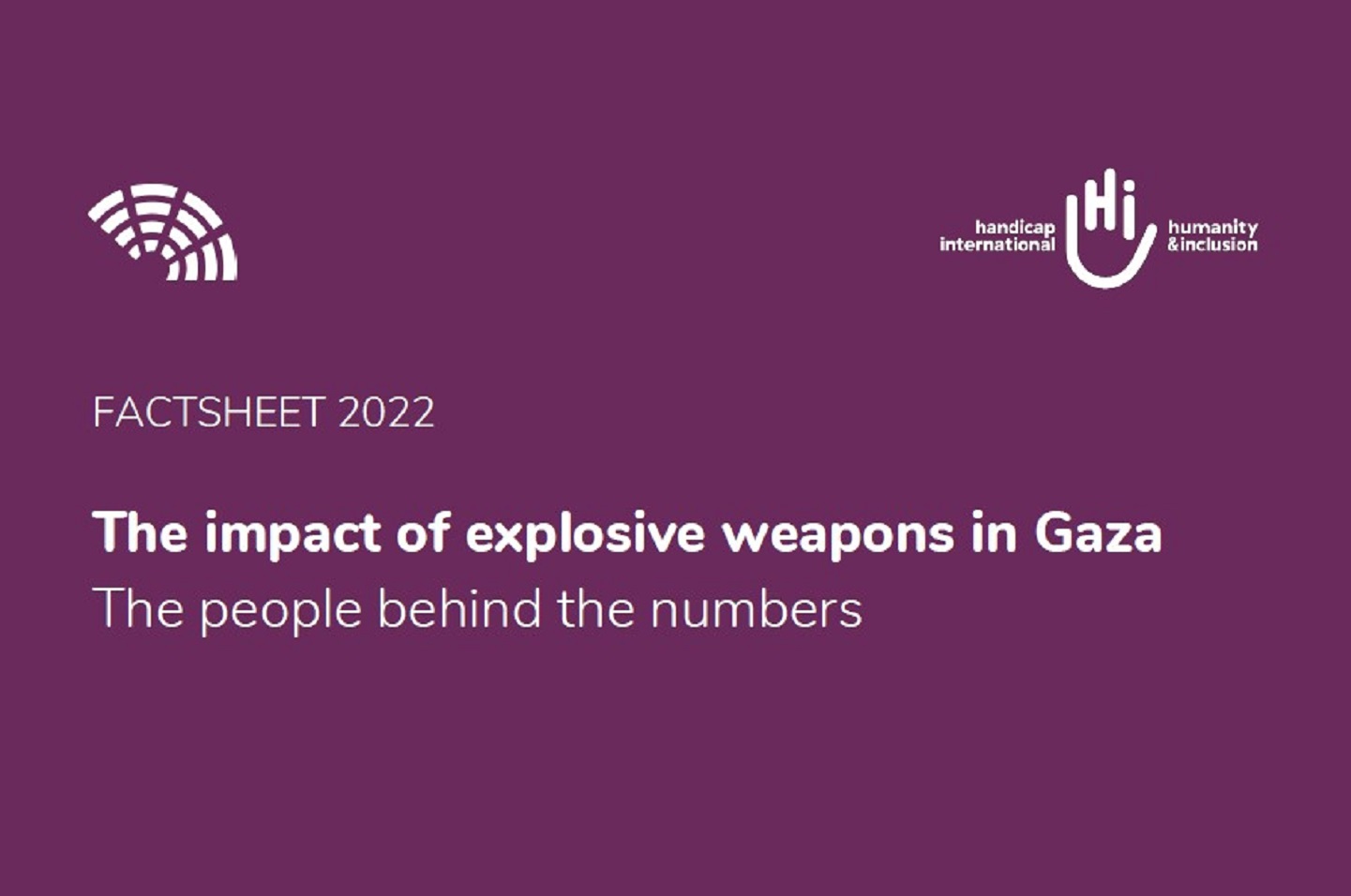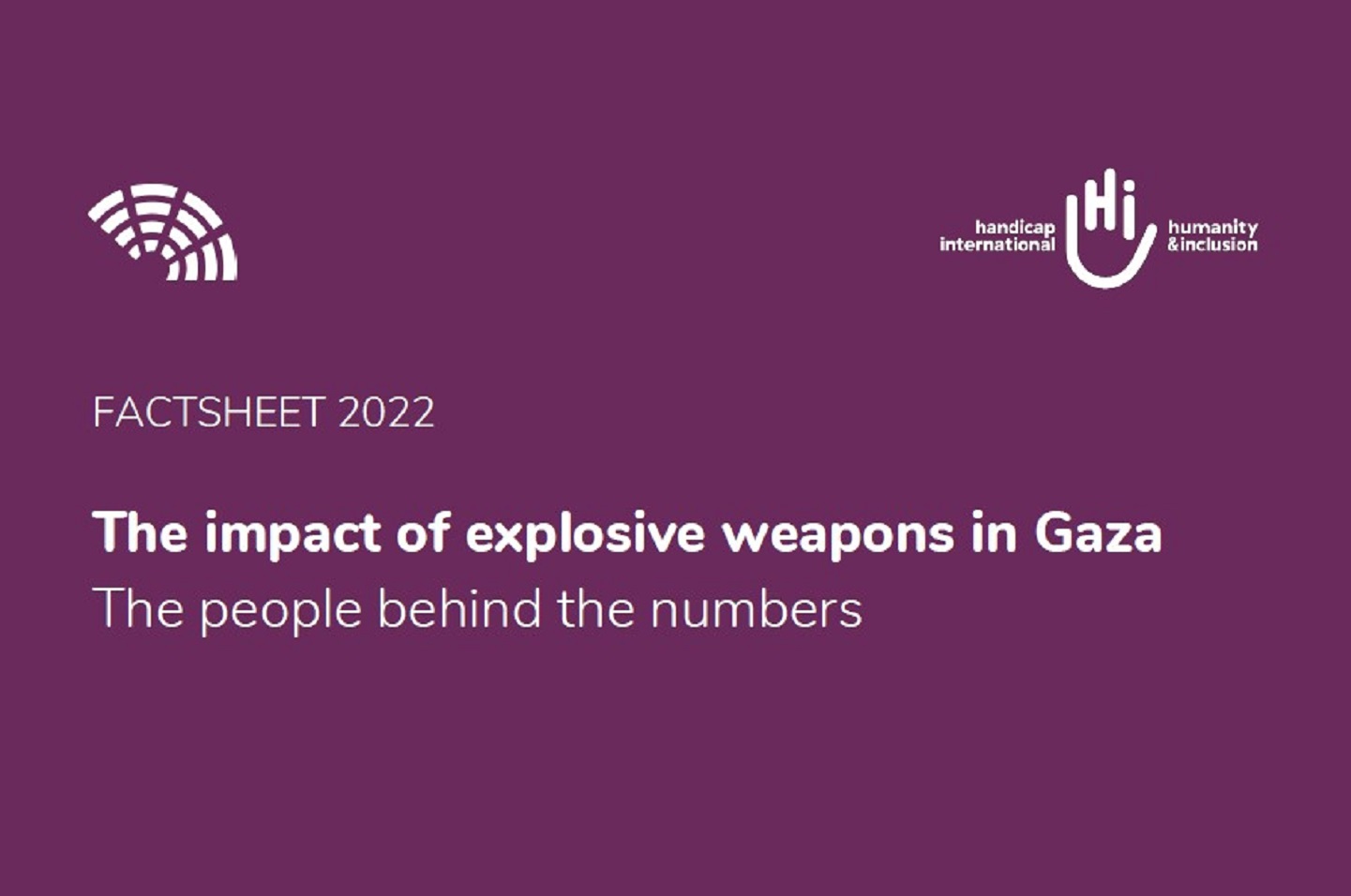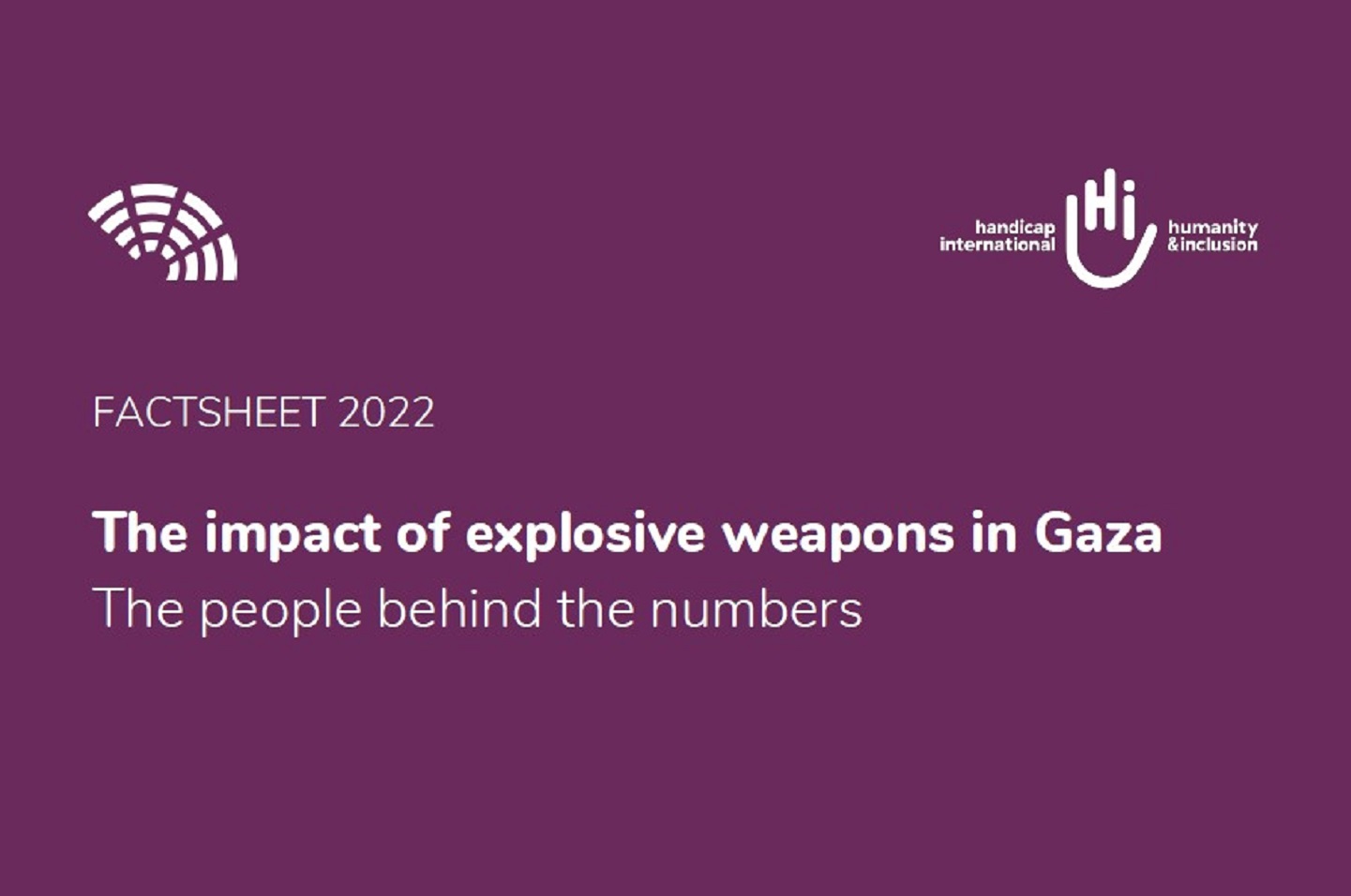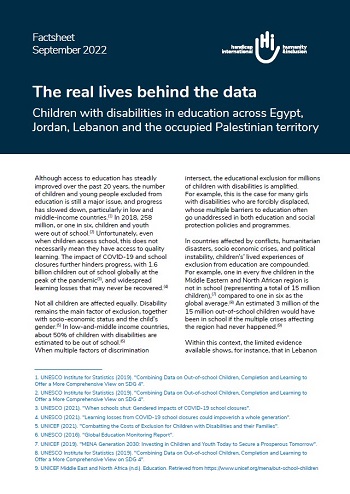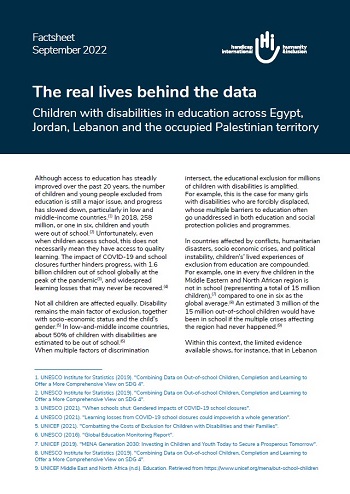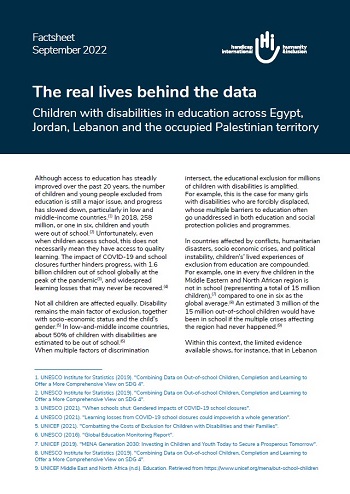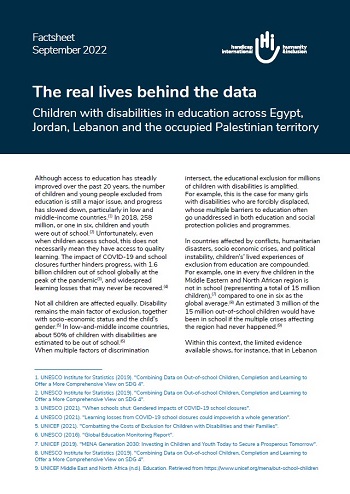 The real lives behind the data
Children with disabilities in education across Egypt, Jordan, Lebanon and the occupied Palestinian territory.
In English only, 2022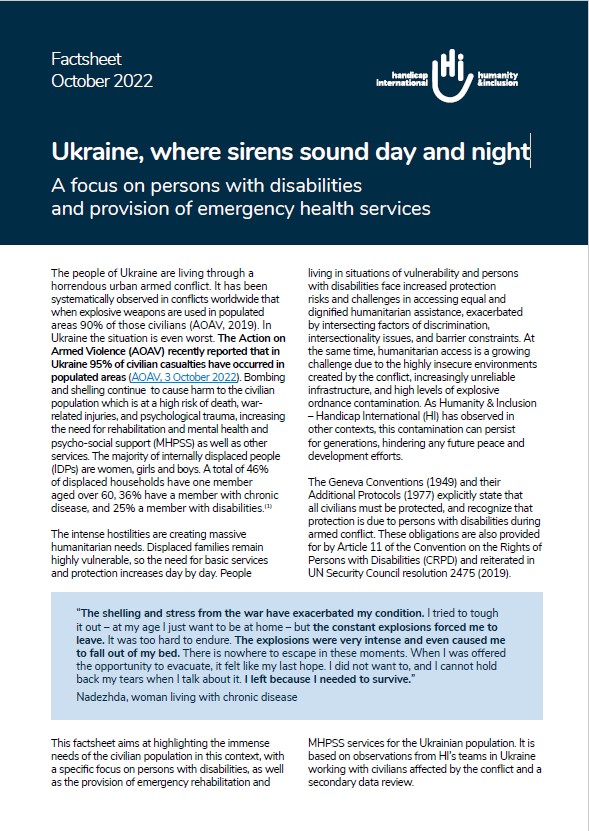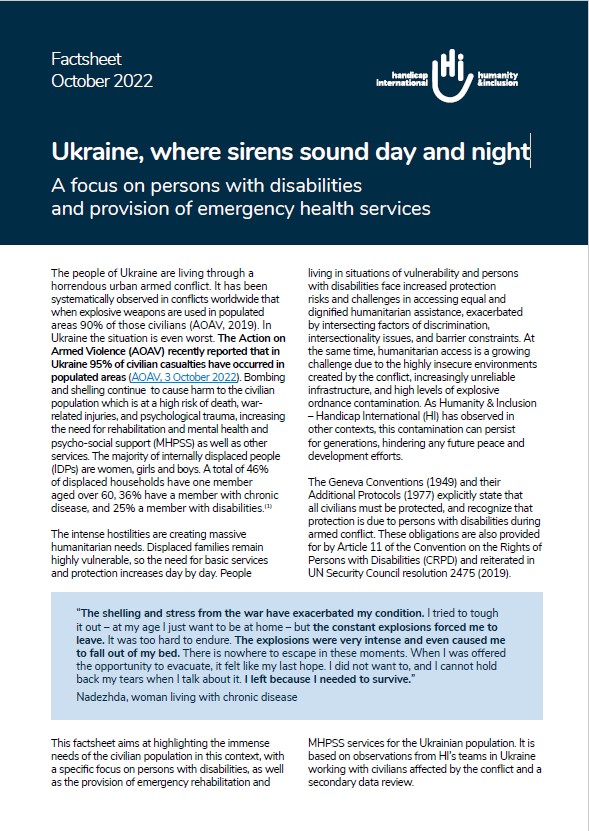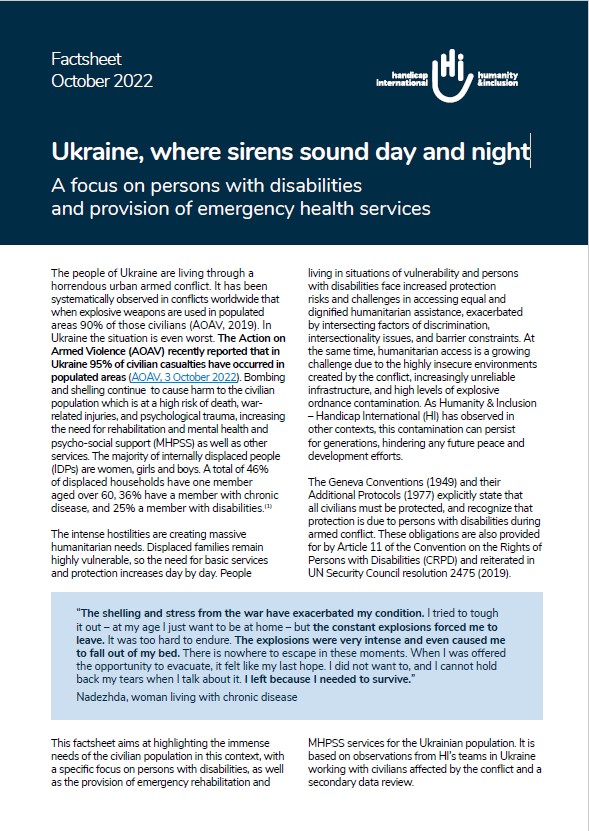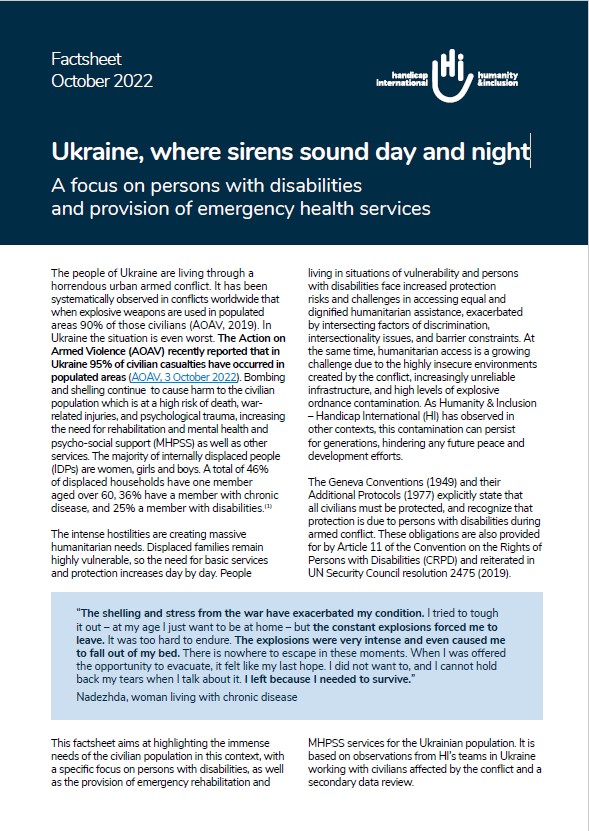 Ukraine, where sirens sound day and night
A focus on persons with disabilities and provision of emergency health services.
In English only, 2022.