To boost our emergency rehabilitation services, HI is building a pool of highly qualified people ready to be deployed at very short notice and integrated into international medical structures or HI teams.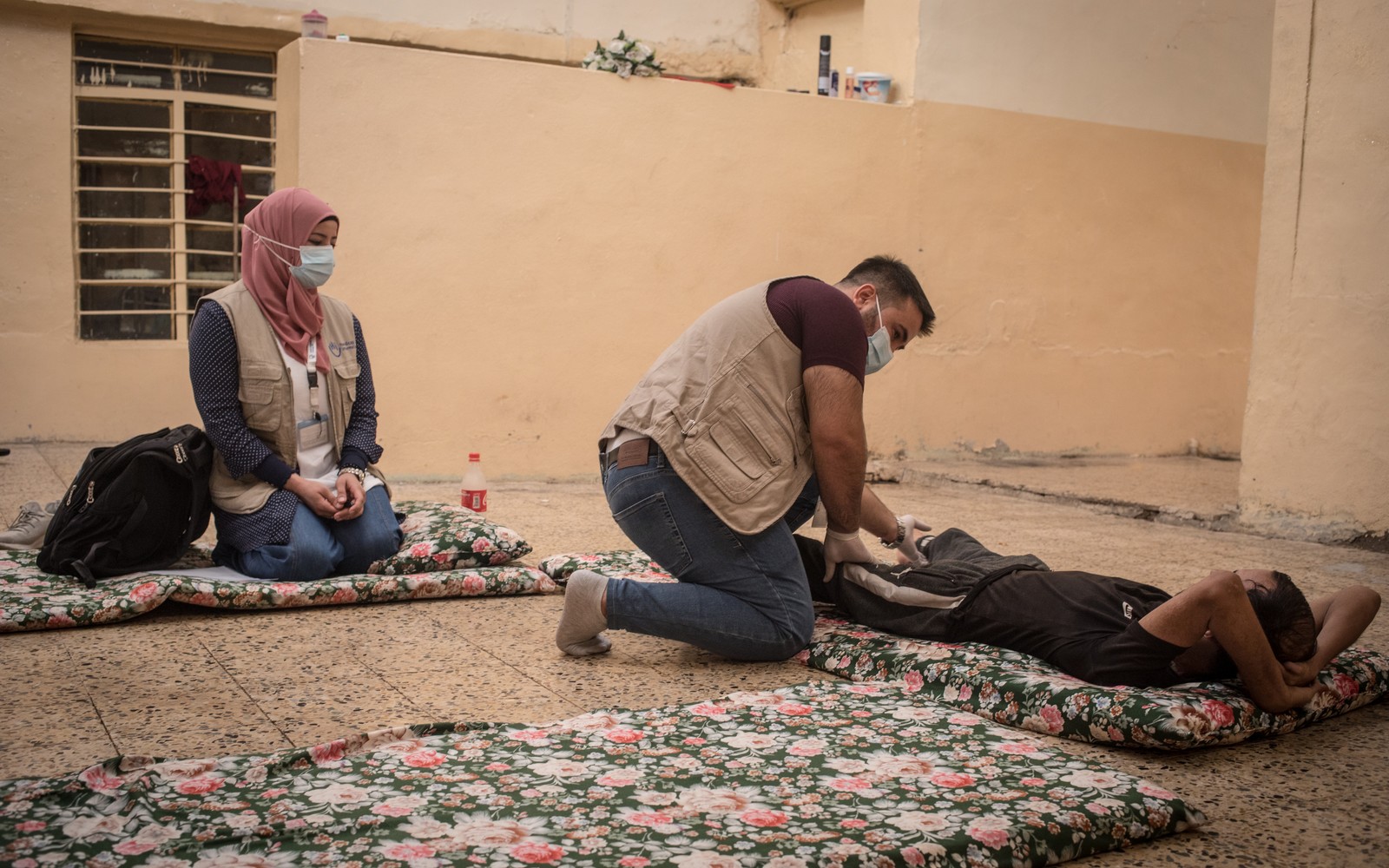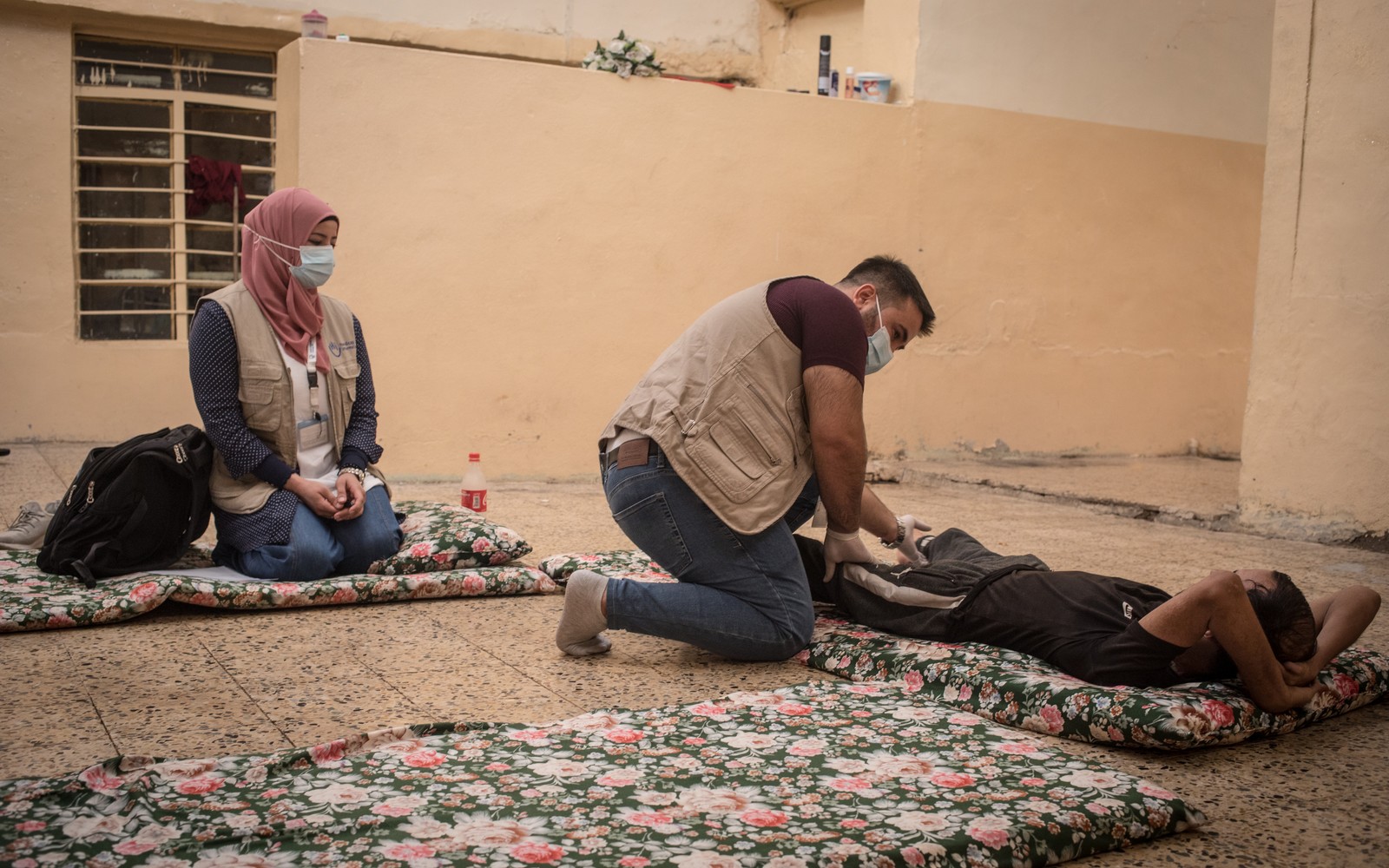 Rehabilitation professionals – join our pool of experts!
We are looking for rehabilitation professionals, with or without experience in humanitarian aid:
Physiotherapists;

Occupational therapists;

Orthoprosthesists;

Burn care specialists;

Amputee care specialists.
By joining our pool of experts, you may be asked to go on humanitarian missions lasting from 3 weeks to 3 months, either:
in HI teams; or

in medical teams with which HI has established a partnership (e.g. MSF). Being integrated means that HI is part of an integrated medical team providing medical and surgical care, which in turn allows a multidisciplinary approach to be adopted and early rehabilitation to be provided (facilitated referral pathway).
Why go with HI and why send your staff on a humanitarian mission?
The feedback from colleagues who have been on short- or medium-term humanitarian missions highlights the following factors:
Helping those who need it most, and being as close as possible to the emergency response in a crisis makes one feel useful and gives meaning.

It boosts the motivation to do one's job.

It provides the opportunity to exchange ideas with peers or experts in other fields and to enrich one's practices.

It provides the opportunity to open up to other cultures and working methods (strong sense of interculturality).

It breaks the routine.

For staff who work in health facilities, it helps provide a new wave of motivation for their teams, gain external visibility and bring a huge breath of fresh air to the professional balance.
Even though it takes time, energy and reorganisation, everyone wants to feel useful and take part in the great causes that serve humanity.
As a member of the HI pool, you will be supported throughout your mission
By joining HI, you will become part of a team of experts in humanitarian rehabilitation response who will support you throughout your mission, from headquarters or in the field, and provide you with advice, tools and technical guidance.
This expertise draws on over 40 years' experience in humanitarian response in physical and functional rehabilitation in many different contexts and countries. It allows our teams to provide guidance and support to technical and specialist staff deployed in the field for other organisations so that they are able to analyse the country and the specific intervention context, and ultimately provide the most appropriate and sustainable emergency response.
Who are our medical partners?
HI provides technical and specialised resources in various aspects of rehabilitation to medical teams in healthcare organisations.
These organisations may be recognised medical non-governmental organisations or international or local healthcare facilities. Specifically, HI will be joining WHO-validated Emergency Medical Teams (EMT) which are able to respond quickly to emergency situations. EMTs are teams of experienced, highly trained and independent health professionals who treat patients affected by an emergency. EMTs are drawn from governments and local or international organisations, and must comply with the WHO's Classification and Minimum Standards for Emergency Medical Teams.
The aim of initiatives such as the WHO's EMT is to improve the quality of care and improve coordination between clinical care teams. They also seek to ensure that teams provide the same level of service, whilst providing a rapid response to affected populations and supporting national and regional capacity building. In the event of a humanitarian crisis, States may request the deployment of these teams whilst retaining control over the expression of needs.
HI has previously worked with the British EMT, with which it supported emergency preparedness missions and deployments in eight countries (Nepal, Ecuador, Haiti, Lebanon, Mozambique, Bangladesh, Samoa and the Philippines) between 2005 and 2021.
Another example of HI's health alliances is its alliance with MSF Belgium.
The role of rehabilitation professionals in the provision of first aid in an emergency is paramount
When populations are affected by a crisis – natural hazards such as earthquakes or epidemics, and man-made hazards such as conflict, terrorism or industrial accidents – they are immediately faced with major rehabilitation needs as a direct consequence of injury or illness. It is essential that a rapid response is provided so as to prevent long-term disability. Furthermore, the sheer scale of these needs disrupts existing services and has a significant impact on the most vulnerable populations and the weakest health systems.
Clinical and humanitarian guidelines now recognise the essential role played by rehabilitation in emergency situations. HI is leading from the front. HI is building healthcare alliances with the aim of strengthening the rehabilitation capacities of professionals and institutions in countries. These enhanced emergency rehabilitation services thus provide better care for affected populations.
For more information about our pool of emergency rehabilitation professionals.
Marie LE DUC
Senior Project Manager - Operations Division